Long Term Solutions to Flood Damage Are Known & Possible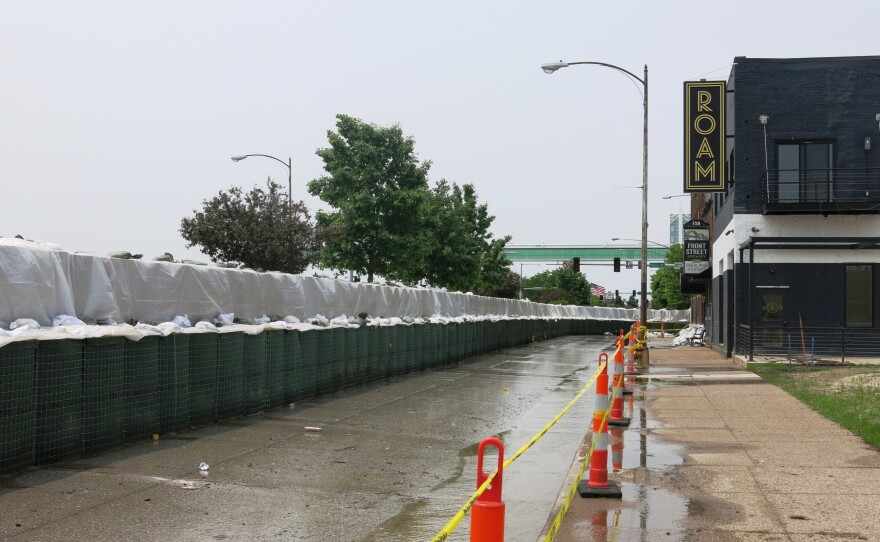 Flood wall along the Davenport riverfront for 3rd crest (file)
Herb Trix
File photo from the morning of April 30th, 2019, the day a temporary levee failed (file)
Michelle O'Neill
As cities and counties figure out how much money they spent fighting this year's record-setting flood, the Corps of Engineers and two other groups are working on long term solutions.
Michelle O'Neill reports Mississippi River communities and five states are taking a different approach to managing the river and preventing flood damage.
"Shared responsibility" and "coordinated strategy" are phrases that come up repeatedly in the report released after the 1993 flood (see below). After the Mississippi River broke several records again this year, those exact same themes are coming up again.
Colin Wellenkamp is the Executive Director of the Mississippi River Cities and Towns Initiative. He says management of the upper half of the river is not unified, calling it a mish-mash of flood protection measures and jurisdictions. That's in stark contrast to the lower Mississippi River system which is largely owned and operated by the Corps of Engineers.
Mayors from Mississippi River cities and towns are promoting management practices on a much broader scale. And Wellenkamp says the Corps of Engineers has already identified places along the Upper stretch of the river to protect critical infrastructure and add wetlands to prevent flooding.
More than a year ago, the Corps of Engineers in Rock Island began working with the Upper Mississippi River Basin Association on a two-year initiative to take a broad approach to flooding, dredging, and drought.
Project Engineer from the corps, Steve Price, says first, people need to understand the Mississippi and its watershed are unique and more complex than its tributary rivers.
The basin association represents five states located on the Mississippi: Illinois, Iowa, Minnesota, Missouri, and Wisconsin. Price calls the joint watershed study project "the 729," and he says it's not limited to federal projects only. He also says coming to consensus won't be easy, and flexibility will help lead to success.
The Corps of Engineers and Upper Mississippi River Basin Association will accept written comments until after a final public meeting later this fall (on September 7th in Cape Girardeau). They want local residents to tell them about the problems they face and their ideas to solve them. The goal is to incorporate local needs and solutions into a plan for managing the entire watershed of the Upper Mississippi River. The website is HERE.
1994 Flood Study Blueprint ... by Michelle O'Neill on Scribd