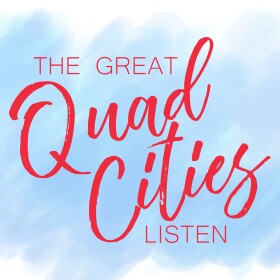 The Great Quad Cities Listen
For nearly two centuries, Quad Citizens have here come here from all over the world and from all walks of life. The Great Quad Cities Listen is an attempt to collect and share all of our many diverse stories. By sharing our stories with one another, we hope to not only gain in civic pride, but more than this build connections and create a more compassionate Quad Cities.
These stories will be shared with StoryCorps and archived in the Library of Congress.
StoryCorps' mission is to preserve and share humanity's stories in order to build connections between people and create a more just and compassionate world.
Made possible by support from the Joyce & Tony Singh Family Foundation.
Artist Irene Terronez and activist Phyllis Terronez discuss their life growing up in Cook's Point, Davenport, participation in the Chicano Movement of the…

Lagomarcino's has been in business in Moline since 1908, adding the Davenport location in 1997. Listen in on Beth and Tom Lagomarcino, current owners and…

17 years ago, Dimetrius and Demetriyone Singleton met Mary Ann McLeod in Bethany's Boys to Men program as United Township High School students. Now they…

Davenport-based magician T.J. Regul, who goes by the stage name "The Quad City Magician," found his passion for magic while working at a group home for…

Tracy White founded Well Suited QC, a mentorship program that brings together African-American boys and teenagers from disadvantaged neighborhoods in the…

When Jasmine Babers was a sophomore at Rock Island High School, she founded Love, Girls Magazine, a quarterly publication "for girls, by girls", in which…

As a coordinator for Iowa Resource for International Service, Emerald Johnson helps place high school exchange students with families in the Quad Cities.…

Moline resident Nick Huyten grew up under Nazi occupation in Holland for the first few years of his life. Nick was interviewed by his daughter, Tonya, for…

Joy and Gaye Shannon were new to the Quad Cities when they became students at Rock Island High School in the early 1970s. It was a time when political…

Rock Island High School juniors Amber and Amy Haskill were separated by the foster system for four years, forced to live with separate families. The twins…