QC Mountain Bikers Fix & Build Trails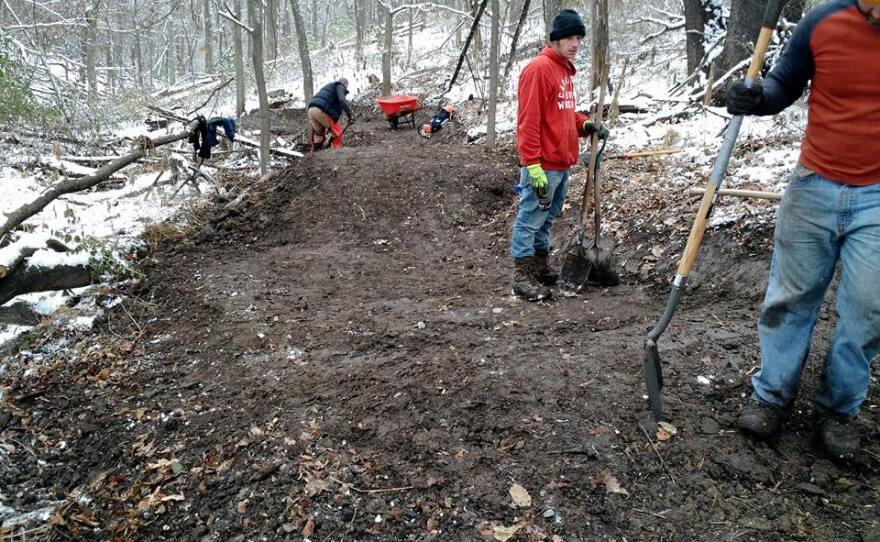 Members begin work to create a jump line at Sunderbruch Park, Davenport
QC FORC Facebook page
Sunderbruch Park map with location of jump line work
QC FORC website
Posts set along new trail route at Illiniwek Forest Preserve, Hampton
QC FORC Facebook page
Design for a wooden ramp at Illiniwek Forest Preserve, Hampton
QC FORC website
Lumber delivered and stacked at Illiniwek Forest Preserve, Hampton
QC FORC Facebook page
Even when it's unseasonably cold, a mountain bike group is maintaining and building Quad Cities trails. For the past few weekends, Friends of Off Road Cycling, or "FORC," has been working on projects at Davenport's Sunderbruch Park, Illiniwek Forest Preserve in Hampton, and DeWitt's Westbrook Park.
Drew Hanson, who plans the "Trail Care Days," says this year, FORC is working on several big projects at Illiniwek, such as moving part of one trail.
FORC has 100 to 150 members, and Hanson says 40 to 50 show up to work on a regular basis. It's not easy. Last weekend they were digging dozens of post-holes. And frequently, members have to move fallen trees and limbs.
FORCWORK2.mp3
FORC members are dedicated to riding and to trail work, and it's awesome.
Friends of Off Road Cycling hosts up to three races every year to raise money for lumber and other supplies. Lovewell Fence and Deck in Davenport gave the group help with the materials for the Illiniwek projects. A post on FORC's Facebook page thanked the company, saying it was "a smoking deal," with special delivery included.