Steinway Artist and QC Native B.K. Davis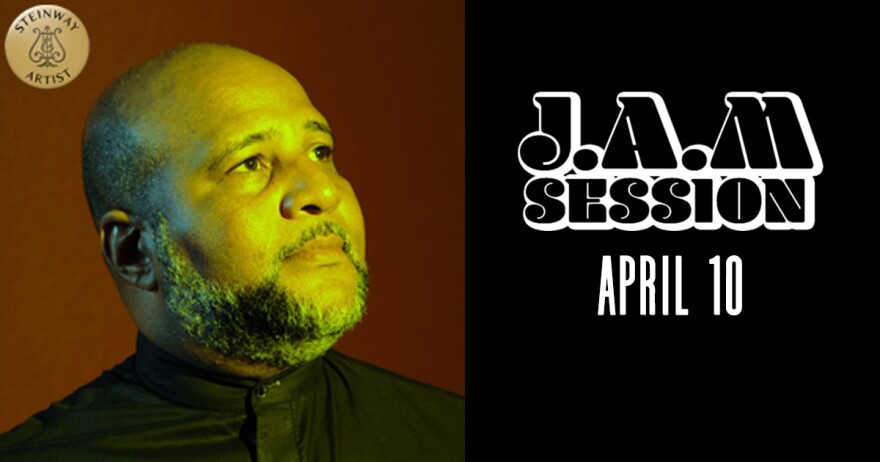 It's fitting that BK Davis has livestreamed concerts in Bettendorf, at Joy Avenue Media. Because the 61-year-old Davenport native – a globally acclaimed pianist, composer, and singer – spreads joy wherever he goes.
In November and April, Davis and his jazz band played free live shows on Facebook for the J.A.M. Sessions, co-sponsored by Davenport-based River Music Experience. It presents high-quality, free livestreams of the best Q-C bands, providing safe live music to the community.
Davis – who's been a Steinway International Artist since 2012, the first such artist in Iowa – now lives in Burlington, Iowa, after many years in Gulfport Beach, Fla. He's spent much of the past year writing new music, performing in what he calls his "Invisible Secret Concert Series," which debuted in November.
"My goal with the Invisible Concert Series show is to share publicly during the coronavirus pandemic, my original music and hopefully inspire and encourage and help people to concentrate on good things – on positive music, good feelings, to help us all get through this."
On April 10, Davis performed 20 of his original songs at Joy Avenue Media.
"I'm still excited about it. I'm having like an afterglow, so to speak."
He's planning a third one in the series by September and to record a new album of originals this year.
Davis has written a lot during the pandemic, since his public touring schedule was mostly canceled. Being at Joy Avenue Media was a perfect fit to perform with his band and get his material out to the public, when they couldn't see him in person.
"It's very satisfying for me because I get a chance to explore my thoughts, feelings and how I want to craft the song, whether I want it to be minor, major, or both. If I want any key modulations in it, the topics. If I want to write about, let's say, a pineapple shake, something fruity. I like that."
One of his favorite songs is called "Down in Belize," since the Central American country is one of his favorite places to visit.
"I love Central America, Costa Rica -- in fact, all over the Caribbean is just wonderful. It's a wonderful experience to see the different cultures and the people."
Davis likes to absorb the similarities and differences among people, in food, language, and culture, reflecting that diversity in his music.
"I'm just kind of like a sponge when I go and I just absorb everything, along with art. I love oil painting. And this informs me – the paintings and things and just the environment, the cultures, it informs me on many different levels on what I can do, what I can write about. And then hearing the different types of music."
He last visited Central America in 2016 and 2017. He's lived in Burlington, Iowa since April of last year, but has been coming to the area to do concerts, including with the Burlington Symphony and solo concerts.
"I'm concentrating all my efforts here in Iowa – my recording, my publishing, my friendships. I'm from Iowa, I'm truly an Iowa guy, so coming back home to retire and just live life in Iowa is extremely satisfying to me. Because after traveling globally for as long as I have, it's time to relax and just be at home."
In April, Davis performed 90 minutes for the Piano Celebration at Davenport's NorthPark Mall, an annual benefit for the Ronald McDonald House in Iowa City. Playing at the mall in his hometown was like coming home after a long vacation.
"It's been a wonderful journey. Not only do I feel I've come full circle, or 360, being here in Iowa is fantastic. And being the first African-American Steinway International Artist from Iowa, it's just great to be home. It's a part of my life, part of my legacy."
"The interaction with the audience is always something I look forward to, because I get a chance to share in public that way, and I get a chance to feel the atmosphere and the environment while I'm working."
Davis says being a Steinway artist (a rigorous selection process) is the ultimate recognition for a pianist.
"It really is – even more so than say a Grammy or whatever. To be a Steinway International Artist is huge. It's enormous, because a lot of folks say. I just won a Grammy or this, that and the other. There have been a lot of Grammys won by many people, but the unique thing here to be the first Steinway artist, and to be African-American, the way I share it with people, I tell them Iowa history and African-American history all wrapped in one. It's a wonderful honor. I find it to be a stroke of divine appointment, so to speak."
For more information, visit bkdavis.com.