'Talking Art' with Alma Gaul about the late sculptor Beverly Pepper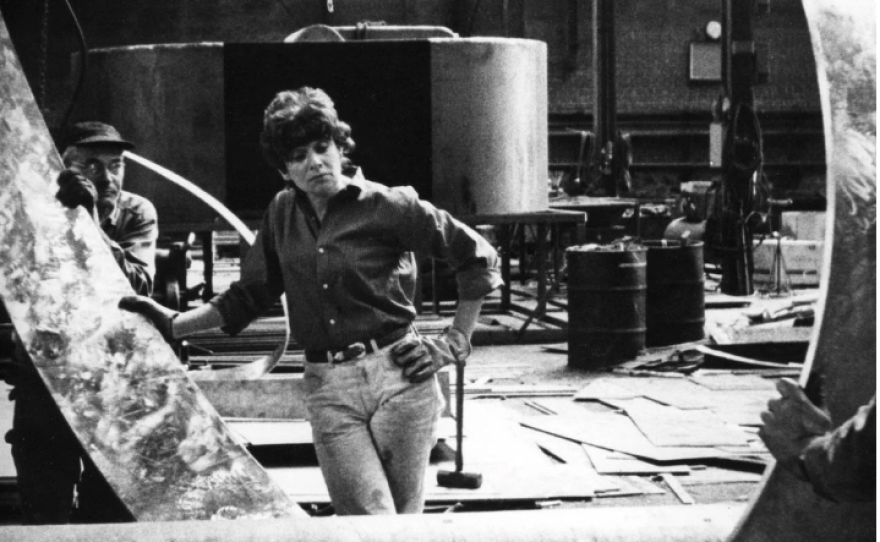 Photo by Curtis Bill Pepper
The innovative sculptor Beverly Pepper was a resident artist with the Visiting Artist program in the Quad Cities in 1981. Over a dozen works were created during her time here. Four of them remain in the Quad Cities, of which three are available for the general public to view. Her sculptures, many of them monumental in size, have been exhibited in major museums throughout the world including the Metropolitan Museum of Art, the Brooklyn Museum, the Museum of Fine Arts in Boston, the Centre Pompidou in Paris, the Barcelona Museum of Contemporary Art, and in many locations throughout Italy where she resided for many decades.
The three sculptures available for public viewing are:
Spirit of Place – located between the TaxSlayer Center and the Radisson on John Deere Commons hotel in Moline.
Trapezium – on the grounds of the Davenport Public Works building, 1200 E. 46th St. in Davenport, just east of the intersection with Tremont Ave.
Pythias Presence – inside the Figge Art Museum, currently on the 2nd floor orientation space.
A fourth sculpture is located at the Deere & Company World Headquarters building and is untitled.
Beverly Pepper was known as a materials innovator and experimented with the use of ductile iron during her artist residency in the Quad Cities. The towering forms she created have been described as possessing a "quicksilver lightness that belied its gargantuan scale".
Listen to our conversation here with Alma Gaul, feature writer for the Quad City Times, about the circumstances behind Beverly Pepper coming to our community, the collaboration that occurred with the John Deere Foundry workers in Silvis where the sculptures were manufactured, and the pride and sense of accomplishment that accompanies a community-based art initiative such as this.
Alma Gaul wrote several articles for the Quad City Times about Beverly Pepper, following the sculptor's recent death on February 5, 2020.